In what seems to have been an endless tease since the earliest parts of 2020, Audi has finally released three new RS models in the USA. The most important, at least in terms of competition, is the new 2021 Audi RS6 Avant, which will compete directly against Mercedes-AMG in the long-predicted Wagon War.
As well as the RS6 Avant arriving, Audi has also brought over their high-end power sedan, the RS7, and their answer to the Lamborghini Urus and Porsche Cayenne Turbo, the RS Q8.
The RS6 Avant arrives with a 4.0-liter, twin-turbo V8 with a significant 591 BHP and 590 lbs-ft of crank torque. As with almost all Audi vehicles, it has permanent Quattro AWD to maximize that power, and scoots to 60 MPH in just 3.5 seconds. It comes with a suggested price of $109,000.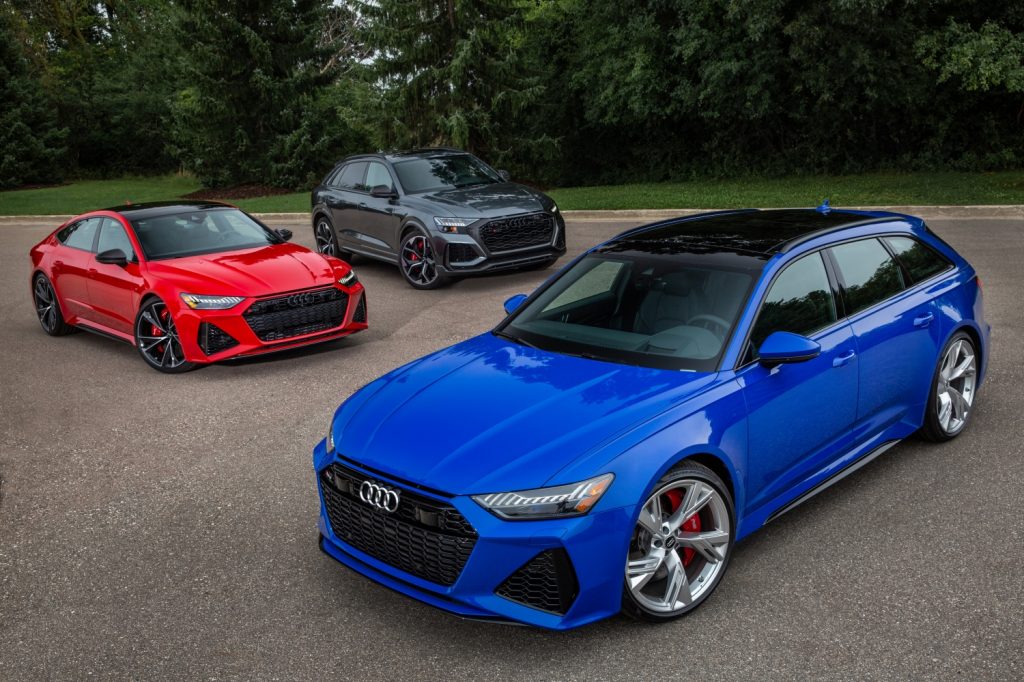 The 2021 Audi RS7 comes in swinging for the BMW M3 and M4 models with a price of $114,000 and with the same engine as the RS6 Avant. However, the RS7 has been lowered, widened, and has a sportback sloped rear that gives it a much more aggressive look than its wagon cousin. It also is nearly a full inch wider than the A7 it is based off, to give the best handling and performance dynamics.
The 2021 RS Q8 is Audi's first home-branded performance SUV shipped to the USA. With a suggested price of $114,500, it's significantly cheaper than both an Aston Martin DBX or the other non-Audi branded Audi SUV, the Lamborghini Urus. It shares the 4.0-liter, twin-turbo V8 engine from the Urus, but detuned to 590 BHP. However, the RS Q8 has a mild-hybrid system to help with acceleration and traction and holds the performance SUV Nurburgring record at 7 minutes and 42.2 seconds.
With these three new arrivals, Audi is making a first statement that after a while, it's serious about bringing its major performance cars back to America to fight off the English and Italian competitors it faces!