As the NBA returned, I was optimistic about the 76ers chances to make a deep run in the playoffs. Simmons was healthy, and it seemed he had finally gotten over his mental block when it came to shooting. Two games in, and all that optimism has evaporated into thin air. I love my team, and to see them struggle is heartbreaking, especially when there's one major reason as to why they're struggling: Brett F'ing Brown is their head coach.
There are truly an unfathomable number of reasons why he should be fired, but here are the top 7!
1. He was brought in as the perfect coach to LOSE.
Let's rewind all the way back to the summer of 2013. The Sixers had just hired Sam Hinkie as general manager to bring an analytical approach to building a winning franchise. His approach: tanking to get better draft picks. In order to be the worst team possible, they needed a horrible coach. In steps Brett Brown. It was unfair to the man, but his primary goal was to lose games. The league groaned, but Hinkie's plan worked for the most part. For three straight years, the Sixers failed to win more than 19 games, and in that time, acquired draft picks that led to the selection of key players highlighted by Joel Embiid and Ben Simmons. In a story for another day, the NBA meddled and had Hinkie fired. Hinkie was replaced by now disgraced Bryan Colangelo. For whatever reason, Brett Brown was kept on to be the coach. Probably because they felt bad for him.
2. His use of timeouts is pathetic.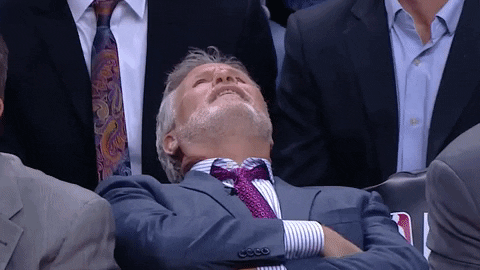 The Sixers' first game of the restart was against the Indiana Pacers. The Pacers are a decent team, but they should not be able to hang with the talent level that the Sixers have. At the very beginning, this seemed to be the case as the Sixers first four possessions lead to easy dunks. Then, out of nowhere, the Pacers started making it rain while the Sixers went ice cold. This is normal in the NBA as it's a game of ebbs and flows. However, coaches usually call timeouts to stop the other team's momentum during a run. However, our brain dead captain allowed the Pacers to score 16 in a row before calling a timeout. You read that right. SIXTEEN. STRAIGHT. POINTS. It's almost like he stopped watching the game for five minutes. This is not new either. He baffles with the randomness of his timeout calls. It makes me want to calmly turn off the television and throw it out my window.
3. He allowed Ben Simmons to go this long not shooting 3's.
Funnily enough, Brett Brown and Ben Simmons go way back. Brown, while coaching in Australia actually coached Simmons' dad, and had a relationship with Ben going back to when he was a kid. Brett Brown was praised for letting Simmons play his natural position (point guard) even with his aversion to shooting. This was all good with the promise that Ben Simmons would develop as a shooter much like Jason Kidd or players of that ilk. However, three years later and Simmons has only made two career 3's… Two. At a certain point you would think the coach would step in and force Simmons to at least attempt shots from outside the paint. LOL! You would think! Brown is not that coach as Simmons has yet to attempt a shot from outside of the paint since the restart. Thanks for nothing, Brent.
4. His management of Joel Embiid is atrocious.
Let's take another look at that the Pacers game. There's 8:38 left in the 4th and despite the heroic efforts of T.J. Warren, the Sixers are starting to pull away. They're up 10 and a big reason why is that the Pacers have no answer for Embiid. He is feasting down low, gobbling up every rebound and getting whatever look he wants. It seems like a couple more minutes of Embiid domination will put the Pacers away. However, genius coach Brett Brown decides this is the perfect time to sit him, even though he's showing no sign of tiring. Embiid doesn't re-enter the game until 5:04 in the 4th. At this point, the 10-point lead has evaporated and the scrappy Pacers are up 2 and full of belief that they can win the game. Thanks for nothing, Brant.
5. The players don't respect him as a coach.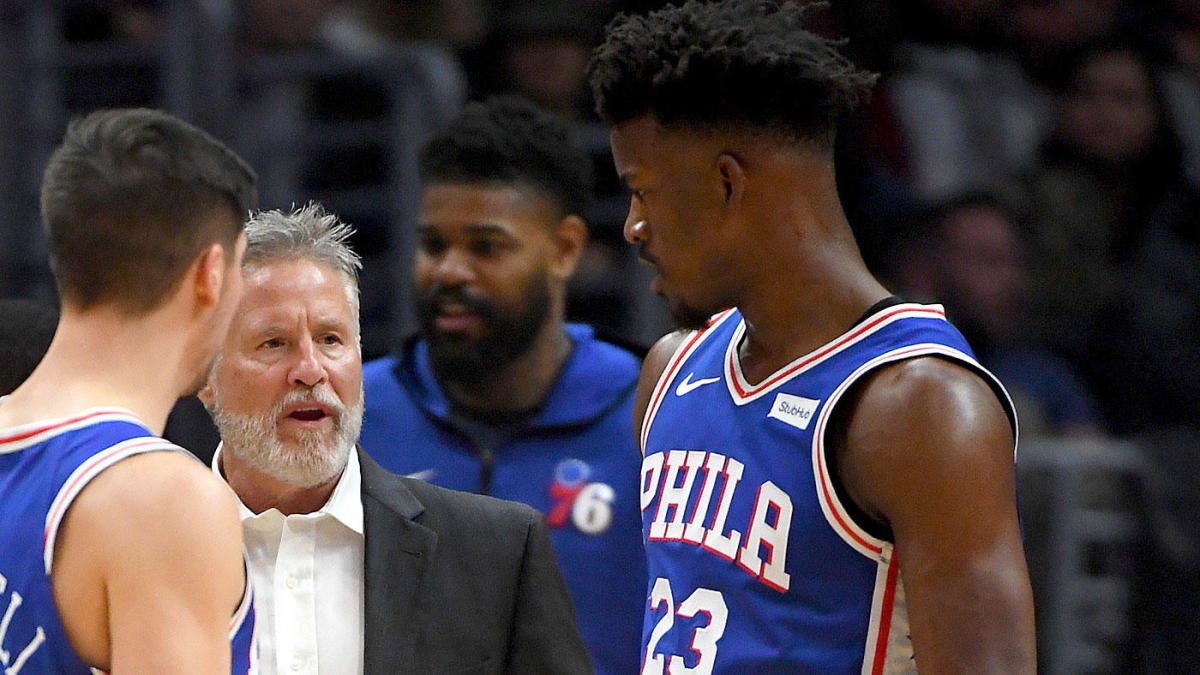 This doesn't mean that the players don't like him – they just see him more as a friend than as a coach. Just look at Jimmy Butler as a prime example. You can say what you want about him, but all this man wants to do is win. The Sixers were a Game 7 quadruple bounce, lucky-ass, bullshit shot by Kawhi Leonard away from beating the eventual champion Raptors in the playoffs. Butler still decided he wanted to go elsewhere due to our coach being a bumbling idiot. If you don't believe me, just find one of the number of stories about Butler getting frustrated with Brown's antics. Thanks for nothing, Brint.
6. I doubt the players even understand what he's saying.
This is a little mean, but screw it, this man seems to want the Sixers to lose. Brett Brown has the craziest accent of all time. It's a mix of Boston/New York/Australian and it makes it very difficult to understand him. Coupled that with the fact that he doesn't seem to have a word in his vocabulary longer than seven letters, and you have a bad recipe for someone whose main goal is to communicate with players.
7. This team is too talented to waste.
Say what you will about Embiid and Simmons, but they are two of the brightest young stars in the NBA. We did not "trust the process" just to make a few decent runs in the playoffs. We tanked for half a decade with the promise of winning a championship or two. And now this team has the talent to win a championship or two – all they're missing is decent coaching.
I leave you with a story: during my summers in college, I worked as an assistant tennis pro at a Philadelphia Country Club. My main job was to help run the summer camp for kids who either wanted to play tennis (or hang out with their friends who wanted to play tennis). Two kids who were frequently at the camp were the two young sons of Sam Hinkie. They were both very nice kids. My last summer, Hinkie was fired as the GM of the 76ers. The very next day, I brought the kids back up to the tennis hut after camp was over to find Sam Hinkie sitting in the air conditioning watching the NBA channel with a blank look on his face. It was crushing – the man truly deserved better, and all I could muster up was, "I believed in what you were doing." He smiled and left with his boys. I can't say for sure, but I'm pretty sure that Hinkie would be upset to see his beautiful project being destroyed by the worst coach in NBA history.
Thanks for nothing, Burt.