SOURCE – As the bankrupt XFL looks for a buyer, the buyer could be its founder.

Via Daniel Kaplan of TheAthletic.com, XFL creditors "seem to believe" McMahon is positioning to buy the league out of bankruptcy. Separately, XFL president Jeffrey Pollack has contacted stadiums in Seattle and St. Louis about reinstating the league's lease agreements.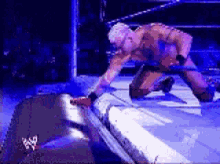 Actually, it's probably more like this…
You hear that? It's a pulse. Grab the paddles. Turn on the defibrillator. We're brining this bad boy back to life. If you don't know how to read between the lines and/or read at all, this is basically hinting at the fact that XFL might not be dead afterall.
If that's McMahon's plan, and if it succeeds, he'd have to rebuild the league from the ground up, re-hiring coaches and players and others necessary to running the league. Anyone who previously worked for the league and was stiffed in any way may not be inclined to return (most notably, Oliver Luck won't be back as the Commissioner), but if folks want to work in football and unless they've landed in the NFL, it's not as if they have many alternatives.
You thought Vince McMahon was done trying to make the XFL work? Clearly you don't know Vince McMahon. This is a guy who literally showed a nervous Rob Gronkowski how to do a stage dive firsthand in rehearsals for Wrestlemania 36. Vince McMahon is 74-years-old.
Plus, you really think a league that re-spawned 20 years after it's first go around was really dead for good? This is less shocking than the killer in a slasher movie always getting one last burst of life after being killed. As long as it's owner is stage diving, the XFL will still be kicking.
This isn't your grandpa's spring professional football league startup. This is the XFL and THE X IS FOR XTREME! And what's more Xtreme than faking your own death? Another thing Vince McMahon has done before.
This news is incredible, and a total WWE move. If it's scripted, I don't care. All I care about is that the XFL coming back in some way, shape or form. If you've been reading Korked Bats for a while, you know this is a HUGE XFL house.
Not to mention this league gave us one of the more awkward moments of 2020…
Let it be known that this league didn't fail because it was unsuccessful. This league failed because a global pandemic outbreak halfway into it's first season. The XFL was very successful and even thrived in two of the eight markets, Seattle and St. Louis. Seattle, of course, already having a pro football team. It thrived because it was entertaining, it was creative, and it knew exactly what it was. And it had talent. Obviously, two of the eight quarterbacks in the league got picked up by NFL teams, and a bunch of others used to be on NFL teams.
In fact, I went to a St. Louis Battlehawks–Seattle Dragons game this year. Yup, that's right. I will one day tell my grandkids that I was one of the lucky few who went to an XFL game in 2020. But kidding aside, the atmosphere felt like a playoff game. A playoff game with only the lower bowl sold because of league rules. It was electric.
The XFL wasn't the NFL. And that's ok. In fact, it's kind of what made it awesome. So please bring it back. Hell, bring it back right now. What's more Xtreme than playing full-contact football in the middle of a global pandemic?