Alfa Romeo revealed this morning what they had been teasing throughout February, "A momentous comeback."
The car is the new 2021 Alfa Romeo Giulia Quadrifoglio GTA and GTAm.
As reported on EVO, there are many juicy details to dig into, so without further ado, some facts and numbers:
Same Ferrari-built 2.9 liter, twin turbo, 90 degree V6 from the Quadrifoglio, has been back to the Ferrari Advanced Engineering Lab, now with power bumped to 532 HP.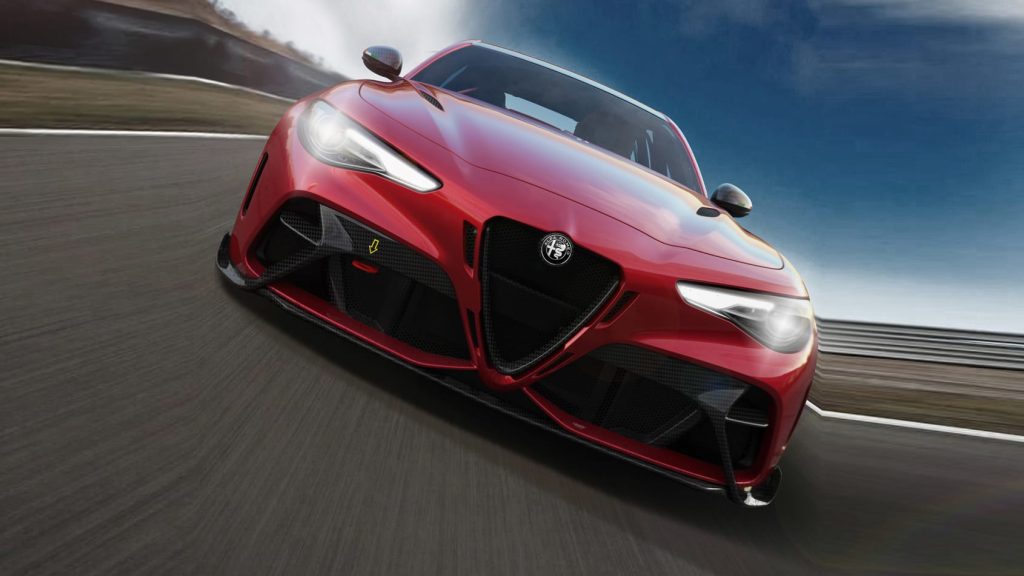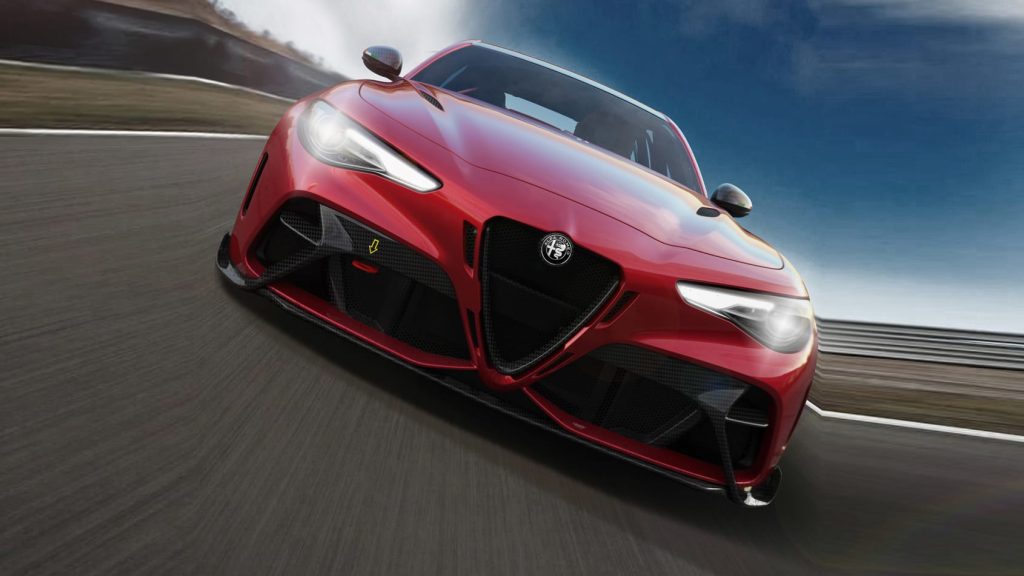 In the GTA, over 100 KG saved over the standard Quadrifoglio, bringing total vehicle weight to 1520 KG (3,351 lbs)
In the GTAm, weight savings have gone to the extreme with the removal of the back row of seats and the fitment of a half body roll cage.
Much of these weight savings were gained via extensive use of carbon fiber. The hood, roof, trunk lid, front spoiler, trunk spoiler (GTA), rear spoiler (GTAm), and diffuser are all made of 100% bespoke carbon fiber pieces. The GTAm also gets a cheeky little tow hook sticking out of the front, an homage to the original GTA race cars of the 50's and 60's.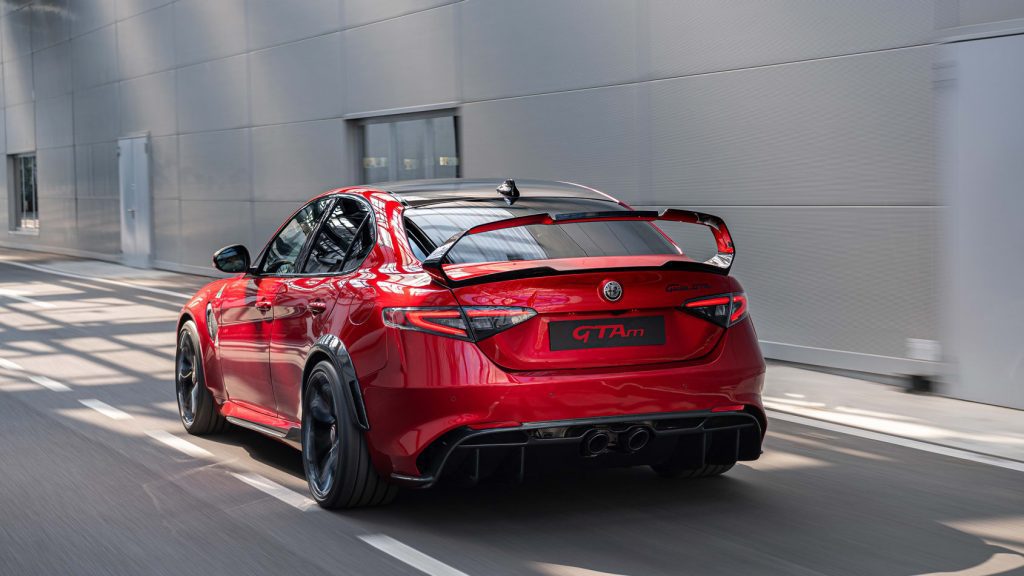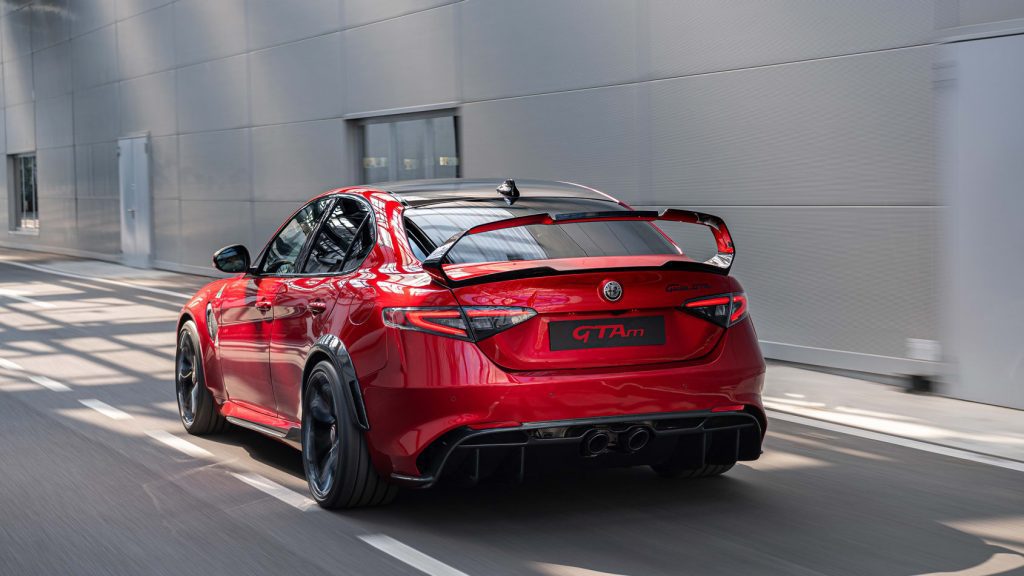 Internally, the seats are carbon fiber buckets up front with full 4 point Sabelt harnesses, and the steering wheel is now mostly leather covered carbon fiber.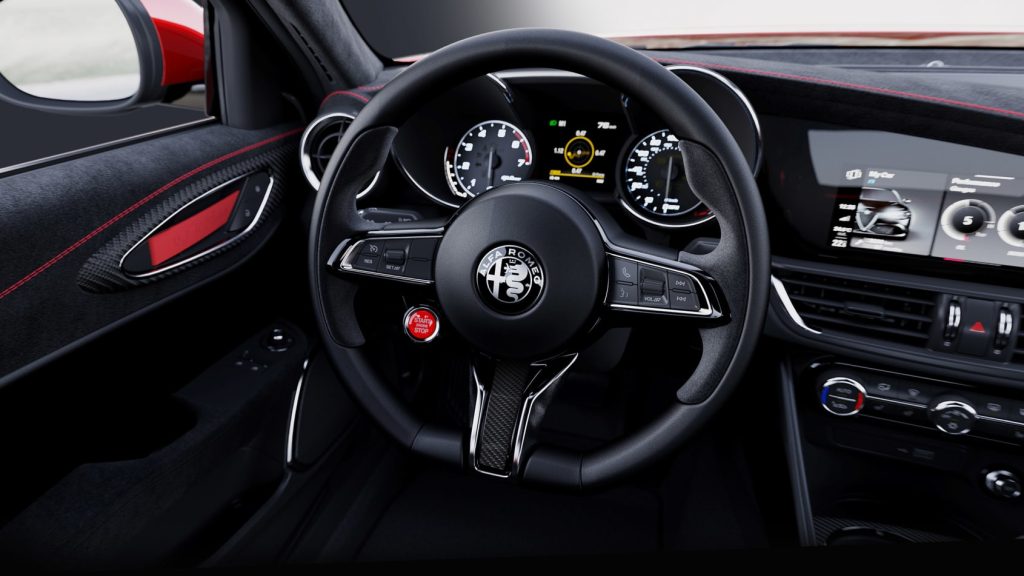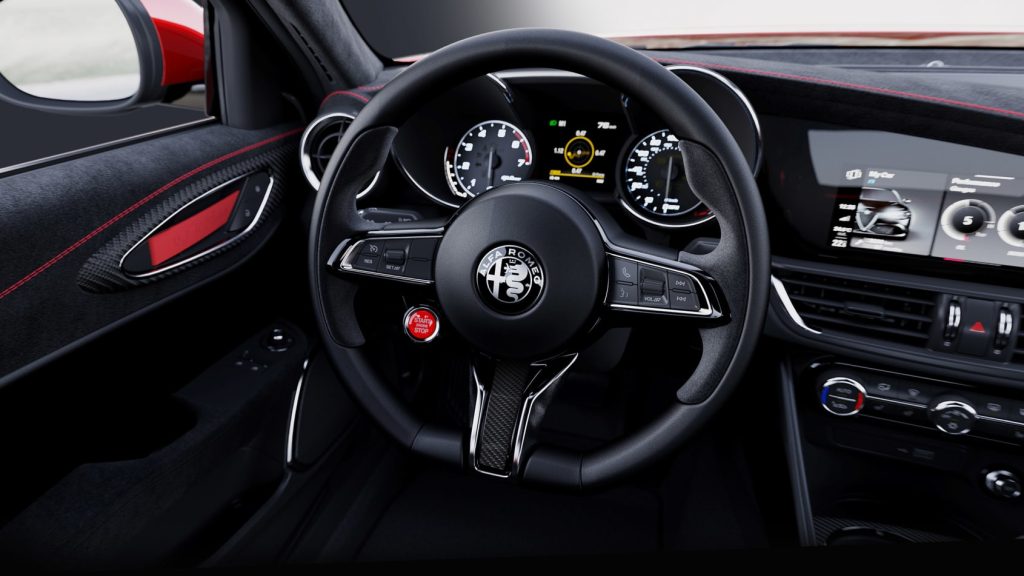 The entirety of the center stack and dash are also made of carbon fiber, and covered where needed in alcantara.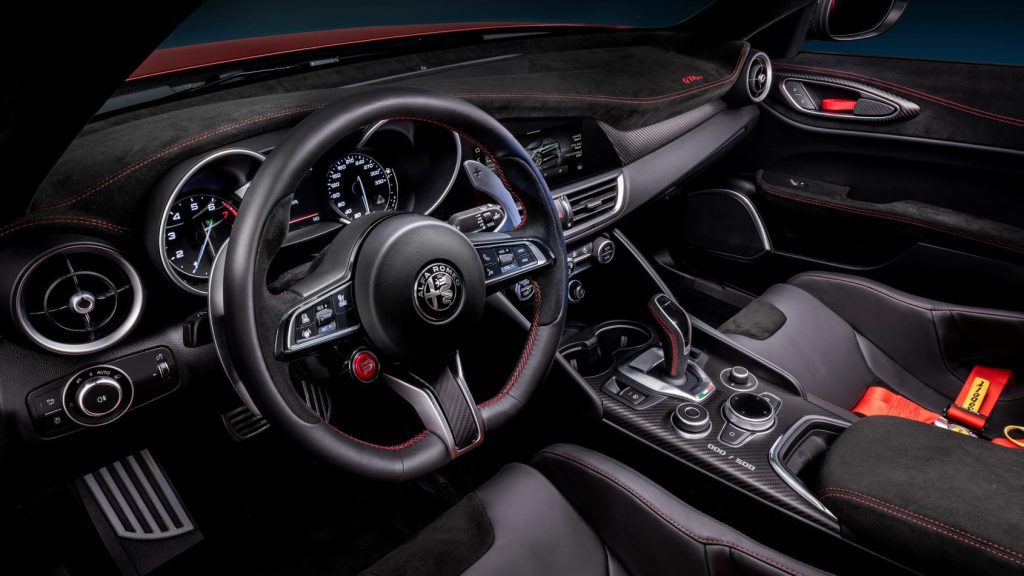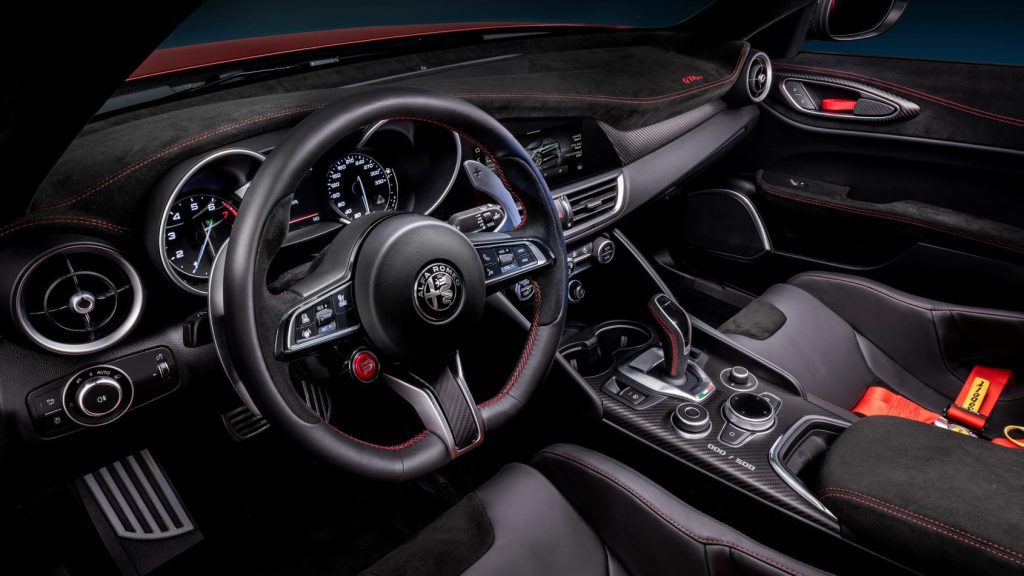 Underneath, the prop shaft from the transmission to the rear axle is made of reinforced carbon fiber, borrowing from Ferrari's 599XX track only supercar.
Front and rear tracks have been widened by a juicy 50mm (2 inches), with new front and rear quarter panels flexing out to cover the wheels. The wheels also now use centerlock nuts instead of 5 lugs.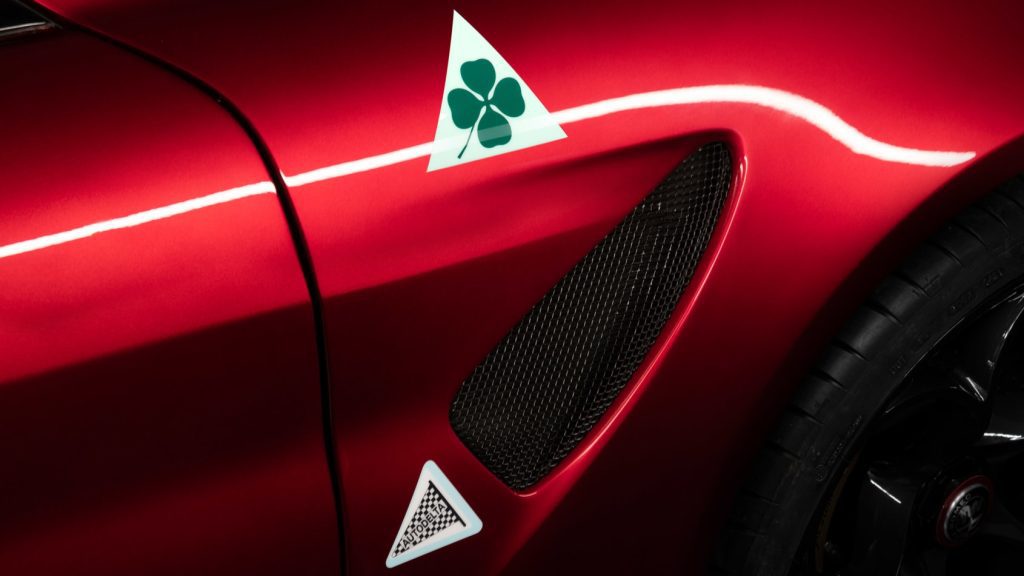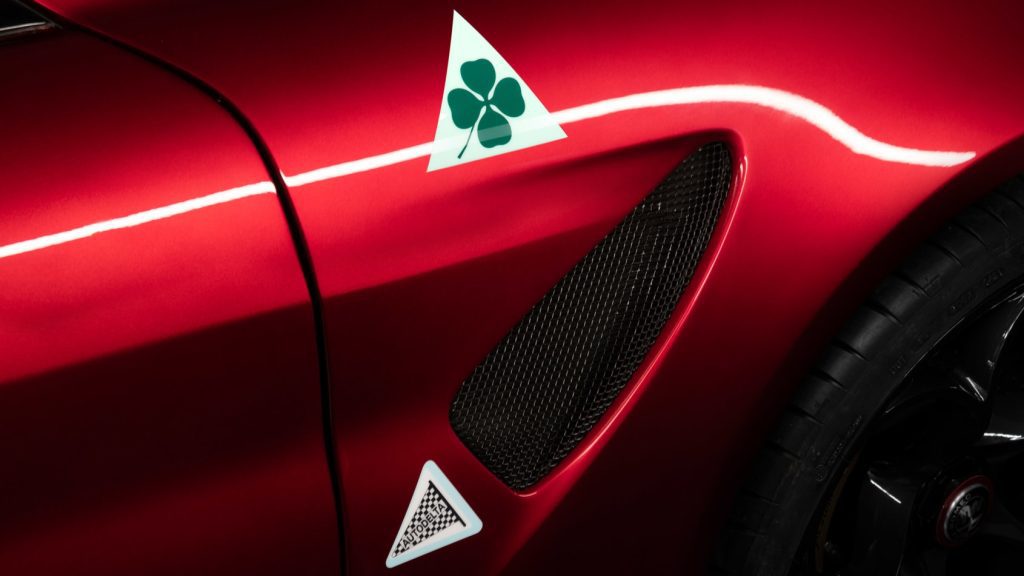 The entire car has been dropped by about a quarter of an inch, and new bespoke springs, dampers, and suspension setup give the car a much more aggressive driving dynamic.
The Giulia Quadrifoglio GTA and GTAm will have a combined worldwide limit of only 500 units, and are expected to start North of $150,000
Full Press Release Gallery Images: