Chernobyl tours from Kiev are incredibly popular. And yet, on the face of it, a far-flung city in Ukraine that suffered one of the world's worst chemical accidents doesn't sound like it would top many lists for places to visit.
In reality, however, Chernobyl has become a tourist hotspot, to the point it was even the focus of an HBO miniseries. More than 10,000 tourists visit the disaster site each year, mostly from Kiev. If you're thinking of going to Chernobyl from the capital of Ukraine, it's vital that you find the right tour for your requirements. So, read on, and discover the best Chernobyl tours from Kiev.
What are the best places to visit in Chernobyl?
The Chernobyl disaster happened at the Chernobyl Nuclear Power Plant, which is located near the city of Pripyat in the Northeast of Ukraine. These are the two primary locations people explore when visiting Chernobyl. You can find many things to do in both of them, including:
Chernobyl Nuclear Power Plant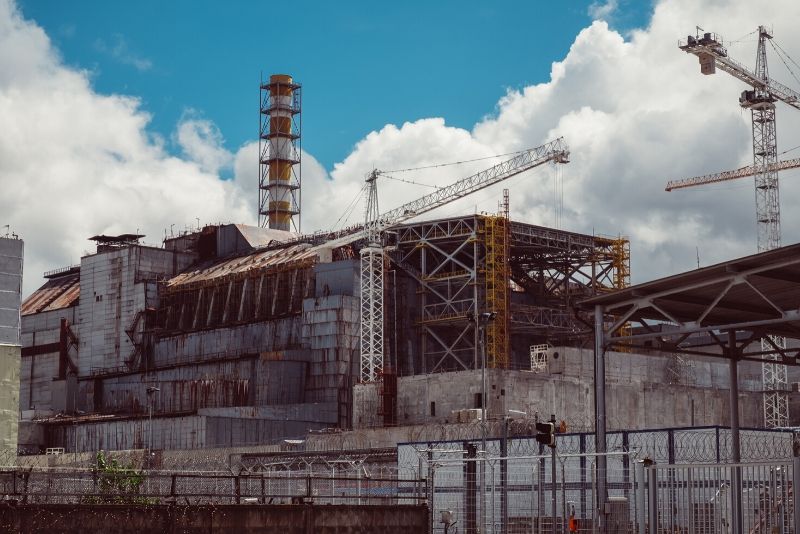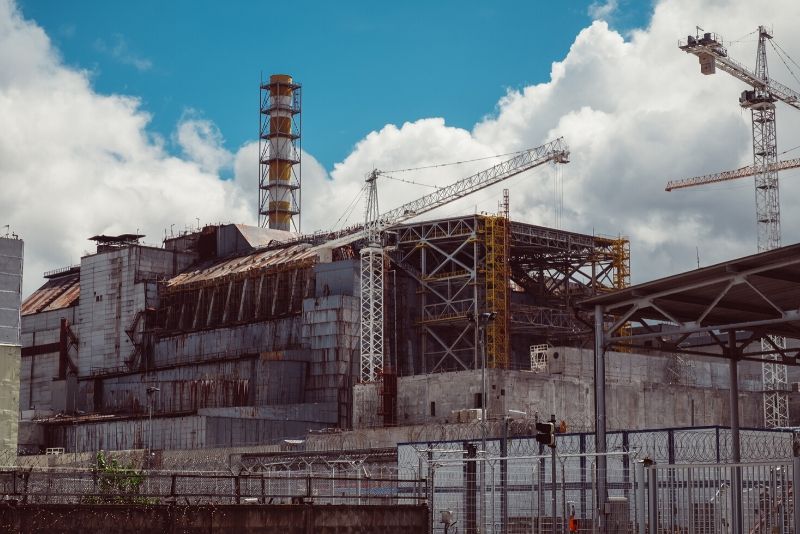 Reactor Number 4 at the Chernobyl Nuclear Power Plant is the site where the disaster took place on April 26th 1986. It exploded after a safety test went wrong, and the rest is history. Today, all that's left is a massive steel structure that protects the reactor. Yet it's a must-see for those fascinated by what happened more than 30 years ago.
Pripyat Amusement Park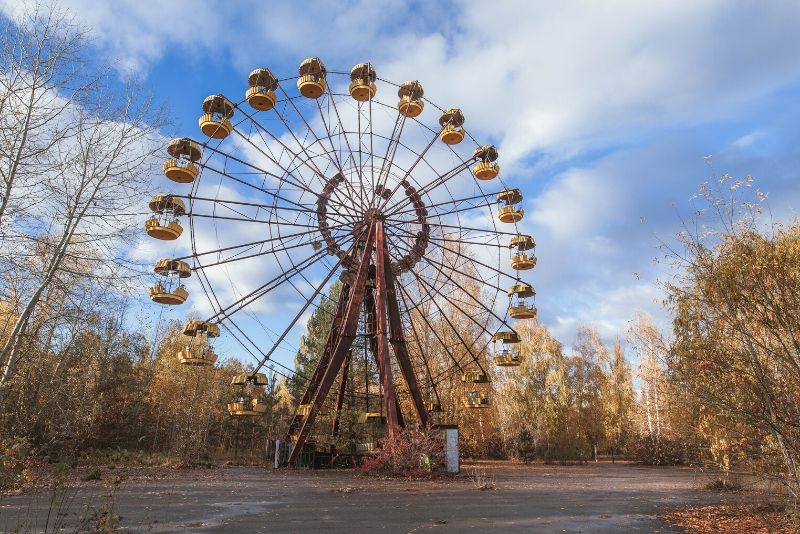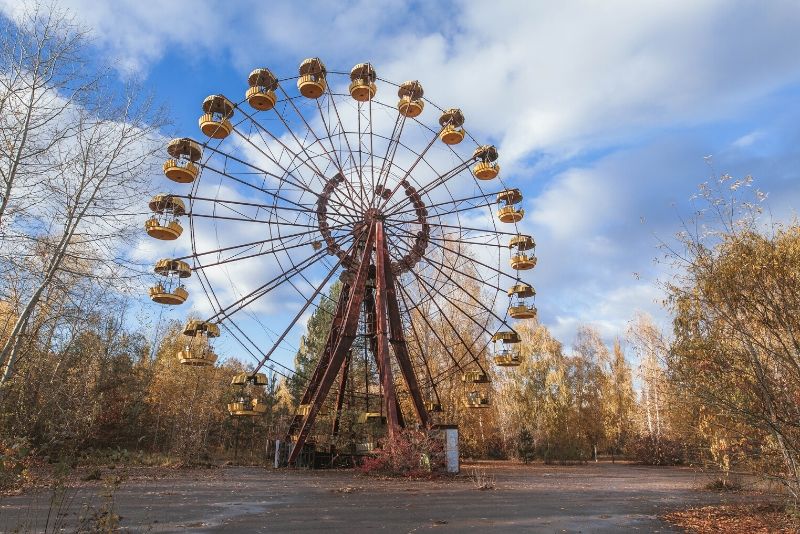 The Chernobyl Nuclear Power Plant might have been the location of the disaster, but the amusement park – and more specifically, the Ferris wheel – has become a symbol of the event. Destined never to spin, this motionless circle represents the eeriness of an area that has been inhabitable since that fateful day in 1986.
Pripyat School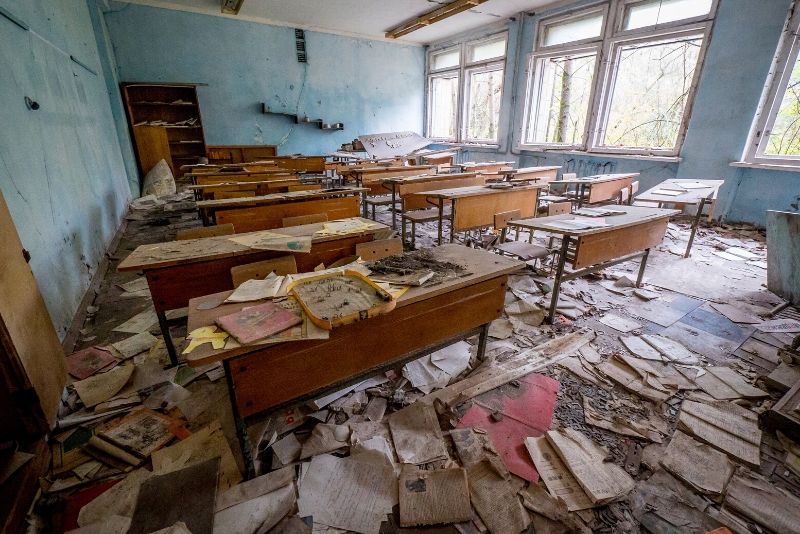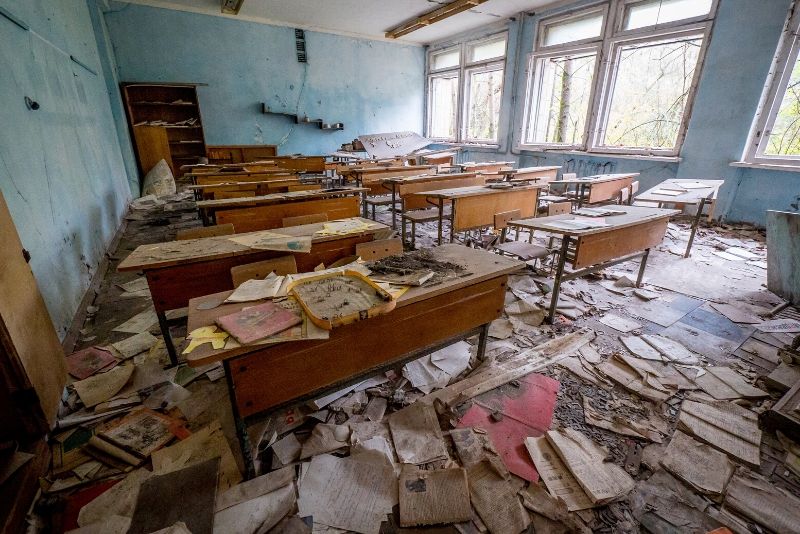 Once an emblem of the model Soviet city, Pripyat and the people who lived there suffered the most at the hands of the disaster. It was evacuated within 36 hours, which to this day many say was too late and the reason for people falling sick in the following months and years. A visit to the school of Pripyat provides the chance to see many of the belongings of those needed to evacuate at such short notice.
Chernobyl Museum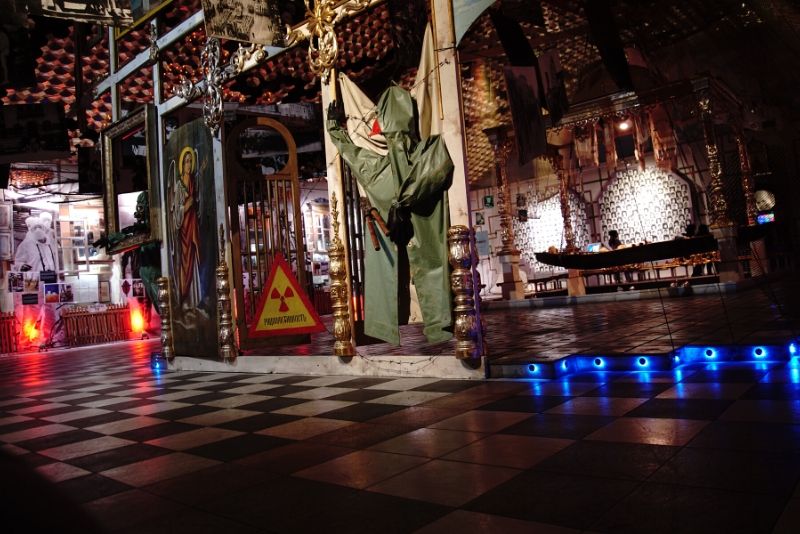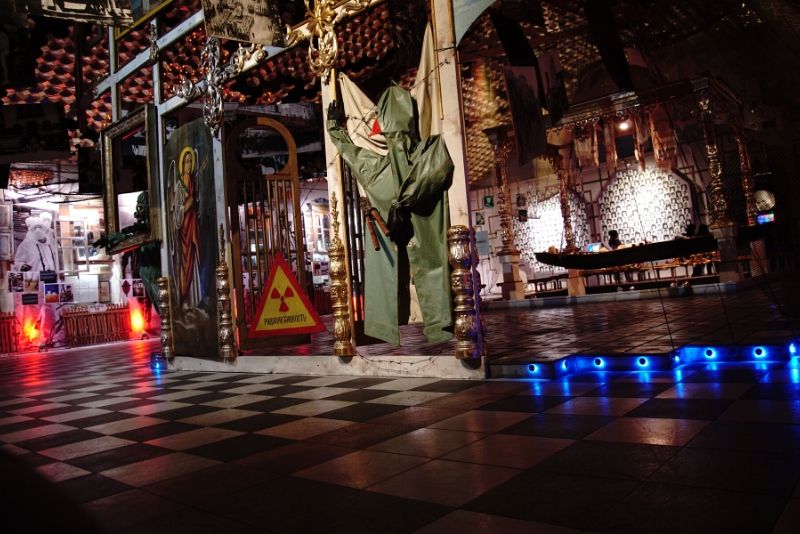 Many who go on Chernobyl tours will see their journey start 100km away in Kiev. Here, you will find the Chernobyl Museum, which is your entryway into the world of nuclear disasters. The museum was created to inform people of the real atrocities that happened, with videos of the evacuation, protective suits and many more artefacts from Pripyat.
Pripyat homes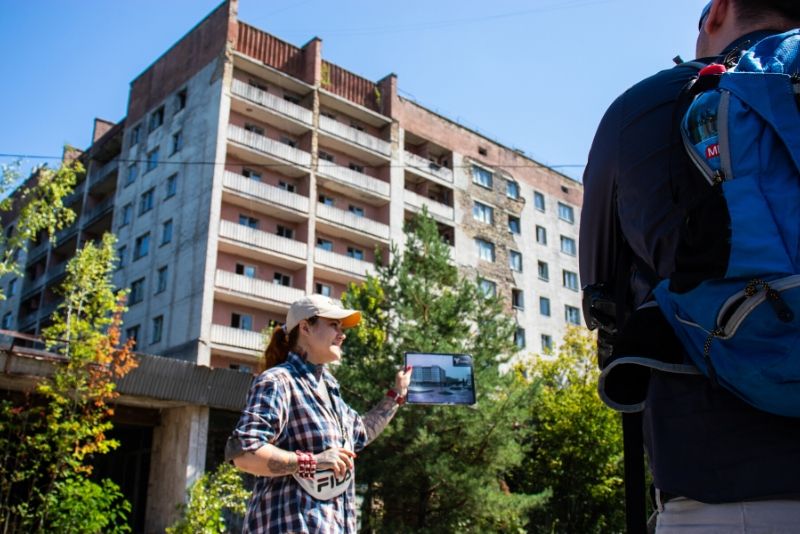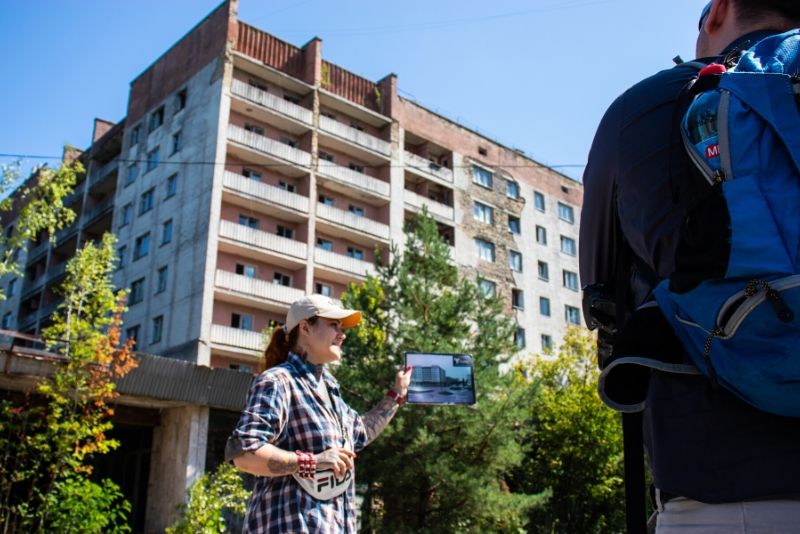 The homes in the city of Pripyat provide a glimpse into a life that once was. Astonishingly, some of the residents who were evacuated have since returned and live their lives in the city without any official acknowledgement from the government. It's not uncommon to bump into these people while on one of the Chernobyl tours of the Pripyat houses and hear their stories first hand.
Red Forest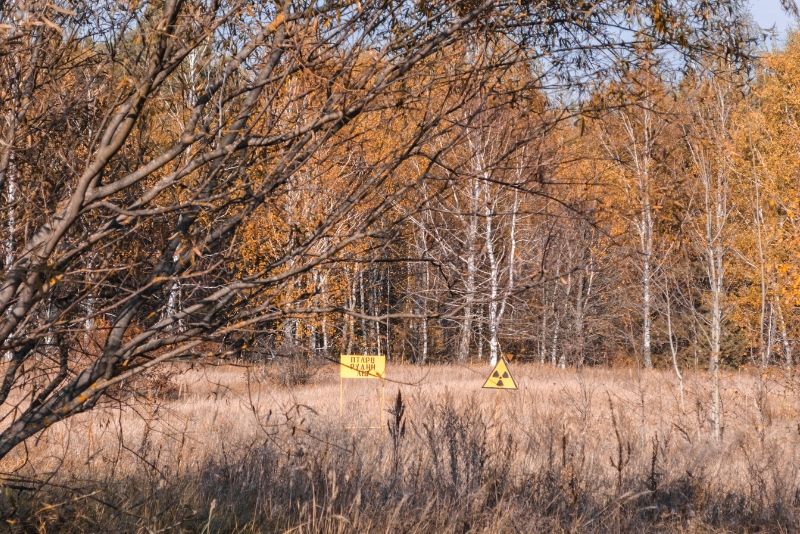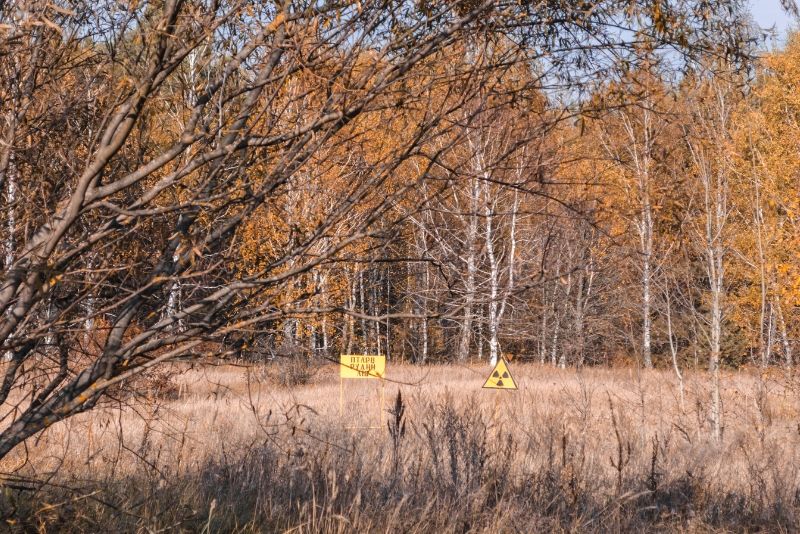 The once vibrant Red Forest is located nearby the Chernobyl plant and was severely impacted by the accident. The radioactive fallout was enough to kill much of the vegetation, create mutated wildlife and leave the forest a permanent rusty colour that makes you think it's autumn all year round.
Should you visit Chernobyl on your own or book a guided tour?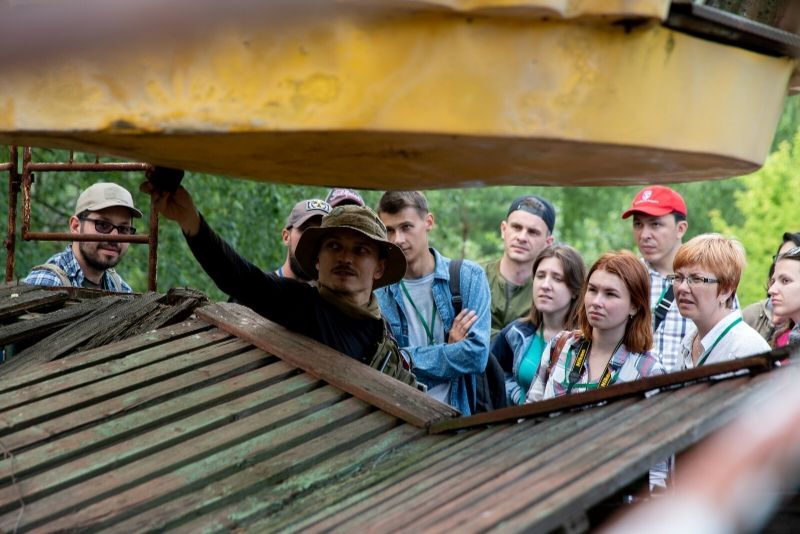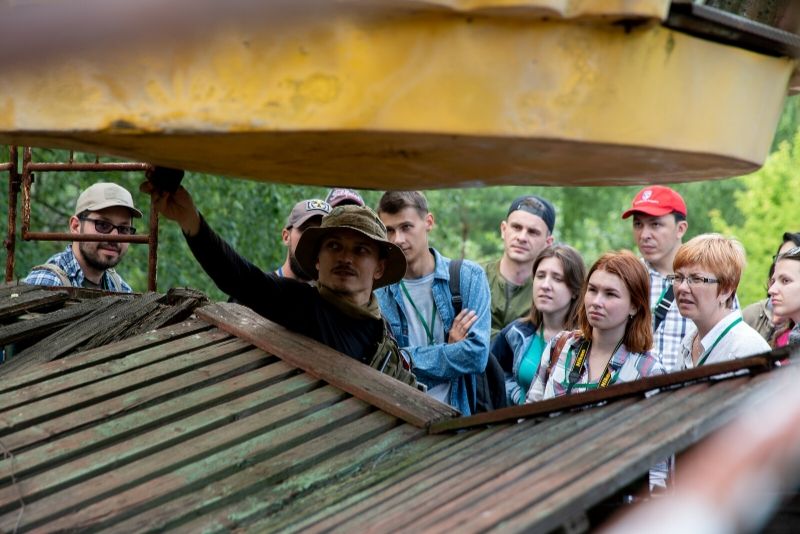 You will need an official day pass to get into Chernobyl, which is only available from tour operators. Due to the radiation, anyone entering needs to have their radiation levels checked before and after leaving the site.
It is highly recommended that you visit Chernobyl on a guided tour – after all, you won't be allowed through the checkpoint without a guide. Tour guides are experts on the area and will make sure that you have all the necessary equipment to enjoy a safe and fun visit without any risks.
The Ukrainian government has declared the area safe and an official tourist site. Yet, there are still plenty of checks that need undertaking, and a tour guide helps simplify the entire process while making sure you stay safe.
How much does a Chernobyl guided tour from Kiev cost?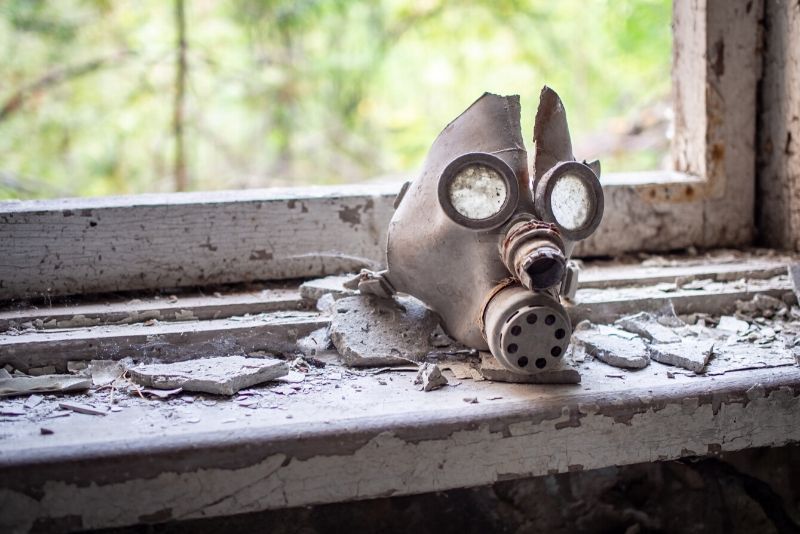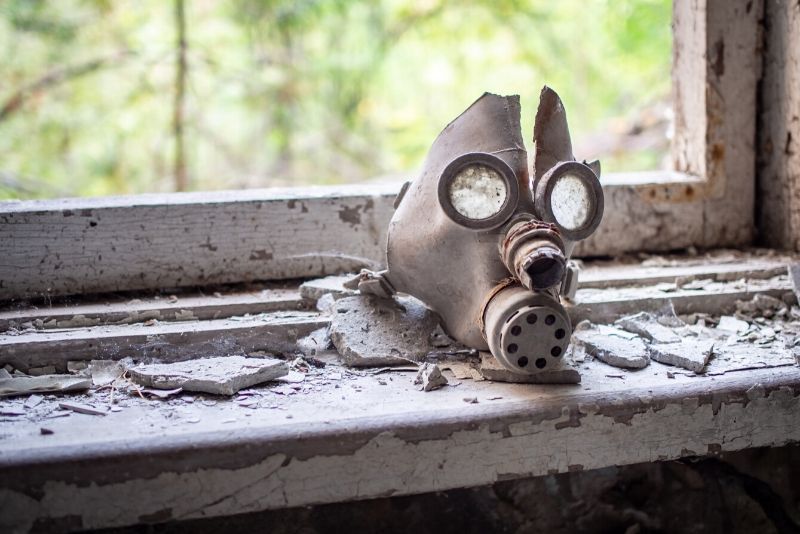 The cost of a Chernobyl tour varies and depends on your type of excursion. However, on average, you can expect to pay around € 100 per person. If you're planning an overnight stay at the hotel, prices are higher and cost around € 250/300 for a two-day tour.
There are many travel agencies offering Chernobyl tours from Kiev. Make sure to compare all the deals available and pick the one that fit best your needs and budget.
How to get to Chernobyl from Kiev, and how long does it take?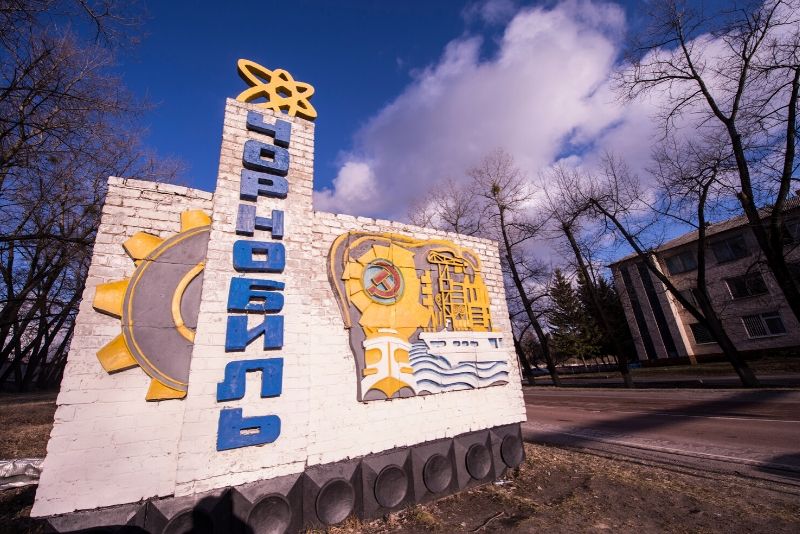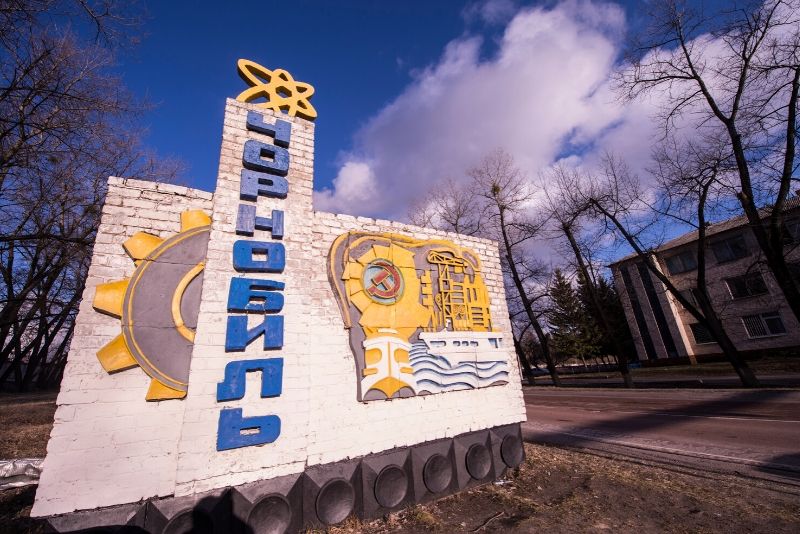 Chernobyl is located in Ukraine and is around 100km from Kiev. To get to Chernobyl, you have to go to Kiev first. From Kiev, it's about a 2-hour drive to Chernobyl. The area can only be officially reached with an organized tour since it's still radioactive and certain checks need to be carried out before and after entering. The public can only access it from one checkpoint.
Technically, you could get there independently by either driving or taking the bus or tram (there are no direct routes on public transport). However, this is not recommended, as you won't be allowed through the checkpoint without a tour guide.
By Car
Chernobyl is 100km from Kiev and takes around 2 hours to drive by car. The majority of Chernobyl tours will include transport to and from Kiev.
By bus
Take a bus from Spartak Stadium to Tarasa Shevchenka Square. Transfer at Tarasa Shevchenka Square to Kiev Polissia. From here, go to Katyuzhanka, where you will need to take a taxi to Chernobyl.
By tram
Take Line 19 from Kontraktova Square to Tarasa Shevchenka Square and then a bus from Kyiv Polissia to Katyuzhanka. From here, you will need to get a taxi to Chernobyl.
How long should you spend there? What is the best time to visit Chernobyl?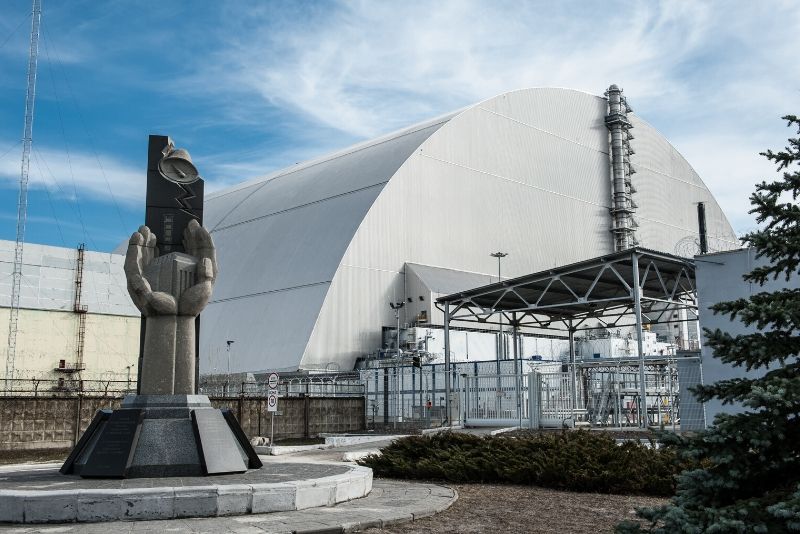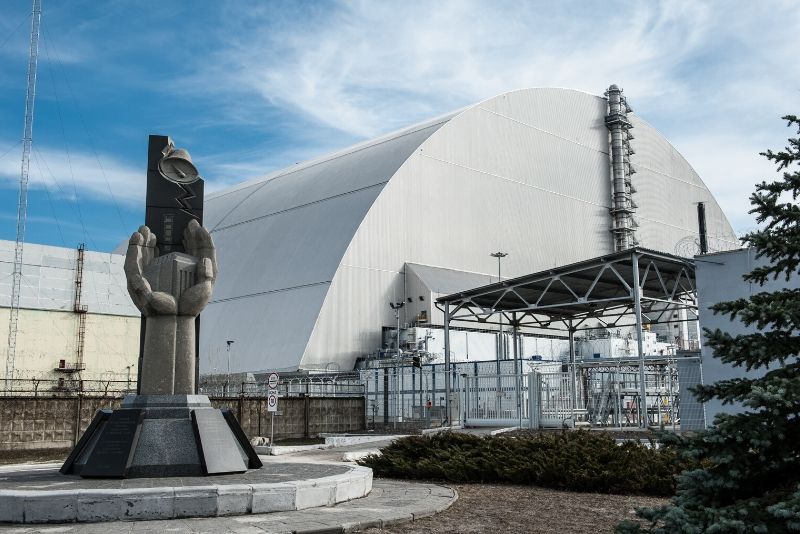 Visitors to Chernobyl have the option of a 1 or 2-day tour. 1-day tours are the most popular and provide enough time to explore the sites and see the effect of all that happened in 1986. A 1-day tour leaves Kiev at around 7:30 am and typically arrives back in the Ukrainian capital between 7:30 and 9:30 pm
Multi-day Chernobyl tours are available from tour operators and include an overnight stay in Chernobyl Town. If you decide to do a 2-day tour, you will cover more of the exclusion zones. However, you will need to take radiation survival training because of the length of stay.
Chernobyl is a year-round destination. The time you visit will depend on which part of the year you prefer personally. The hottest months are between June and August, with temperatures averaging around 25c. The spring is much cooler, while the wintertime can see temperatures drop into the minus and sometimes go as low as -10.
Is it safe to visit Chernobyl?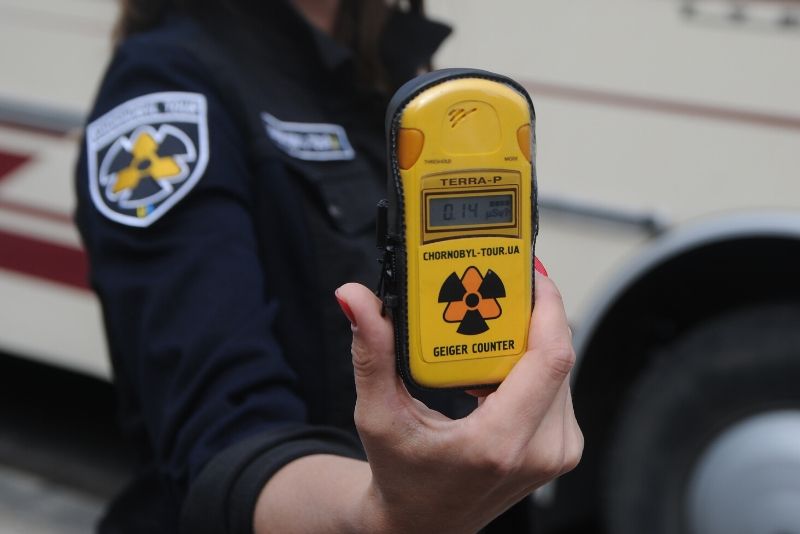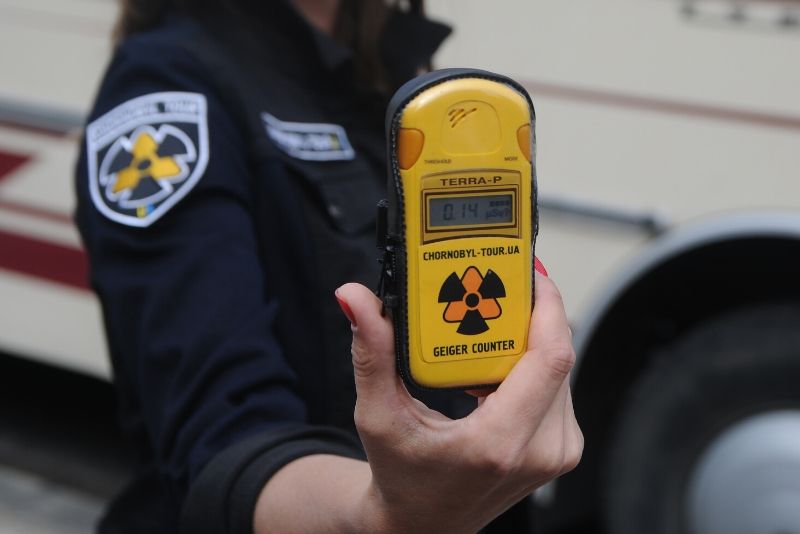 Chernobyl is safe. Otherwise, it wouldn't be declared an official tourism site by the Ukrainian government. Over the years, specialists have confined the contamination of radiation, making the area habitable for short trips.
During your tour, you will be provided with an instrument that keeps track of the amount of radiation you accumulate. The average for one day is around 2-3 mSv, which is about the equivalent of spending one hour on a plane.
You're advised to cover as much of your skin as possible and will be provided with specialist suits in some areas. Some parts are no-go zones due to high radiation, but your guide will make it clear which areas you can and cannot enter.
Travel tips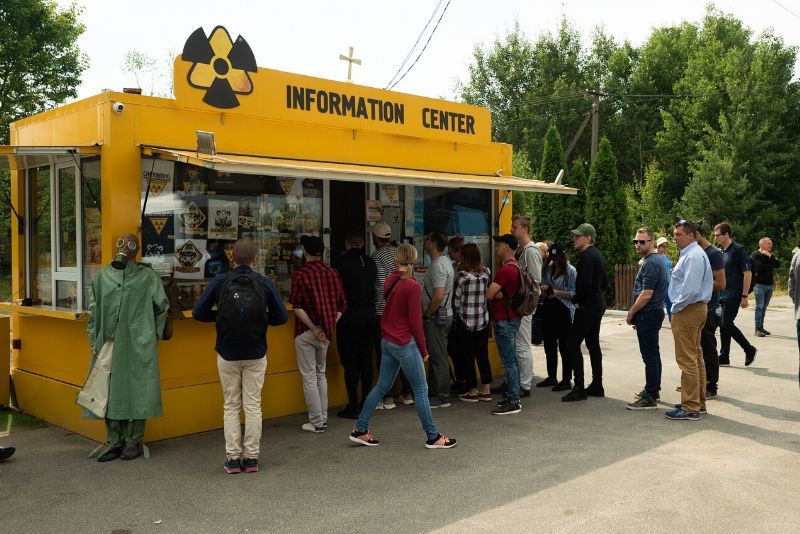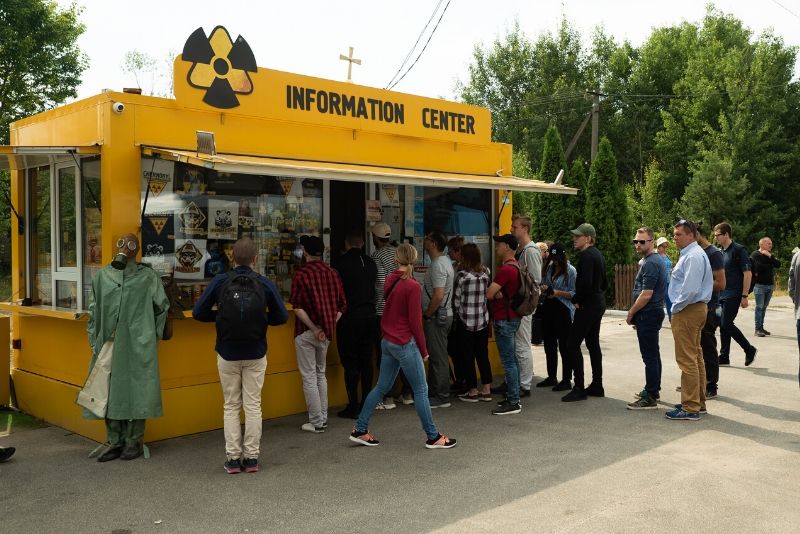 You must have your passport. Otherwise, you won't be able to pass the checkpoint
Wear long-sleeve shirts and trousers at all times
Wear covered shoes as there are many bits of broken glass due to the old buildings
Bring water and snacks as you will be walking for much of the day
Even though Chernobyl is safe, it's a good idea to get travel insurance for your visit
Do not hesitate to comment below if you have some questions about the Chernobyl tours from Kiev.
We wish you an excellent visit 🙂