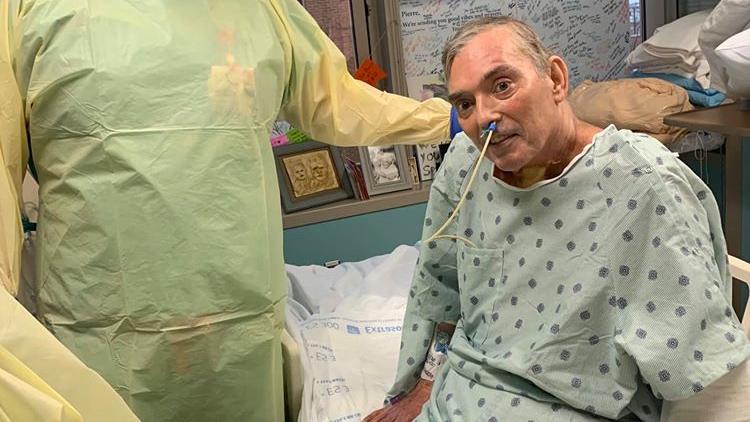 Jeremiah Gibbons had practically given up hope as he faced the grim and growing possibility each passing day of planning a funeral for his father.
It had been more than a month since Pierre Gibbons, a former Santa Fe High School football player, was badly injured when he ran into a burning house to try to rescue an elderly neighbor in Maryland. The elder Gibbons was in a coma, doctors had given him a 10 percent chance of survival and it seemed like he wouldn't beat the odds as his days in intensive care turned into weeks.
Then, seemingly out of nowhere, Jeremiah Gibbons received a phone call from the hospital.
"Get here now," the nurse at John Hopkins Burn Center in Baltimore told him in early November. "Your dad is awake!"
Nearly four months after Pierre Gibbons suffered burns to 70 percent of his body and his family was told to prepare for the worst, the 57-year-old pulled through.
"I flew by the seat of my pants to go see him," Jeremiah Gibbons, a firefighter and EMT with the Baltimore City Fire Department, said Friday in a telephone interview. "I mean, I was bawling to the hospital. When I got there, his eyes were open, and he was looking around. I was like, 'Oh my God, dad, you're there.' "
Hailed as a hero for his actions, Pierre Gibbons even surprised his doctors.
"He is a miracle," Dr. Mohammed Asif told the local CBS affiliate in Baltimore. "I think a lot of people pray for him and he has a great social support."
Jeremiah Gibbons, 34, said his father, who suffered two stokes while he was in a coma, was a little confused at first. But he quickly showed progress.
"Cognitively, he's the same guy," he said. "He's still cracking jokes. He's still funny. He's always got something funny to say, and that's how we knew he was still the same person."
The younger Gibbons said his father, who has gone through at least 20 surgeries, is lucky to be alive.
"You just show [up at the hospital] every day, not knowing if he was going to live or not," he said. "They even said they had organ transplant on standby because he was an organ donor. One night it was so bad they had their team on standby because they thought he was going to [die]."
But Pierre Gibbons still has a long road of recovery ahead.
"There's a light at the end of the tunnel, but the reality of this here is that dad is still in the burn [intensive care unit], which means anything can happen," his daughter, Taylor Gibbons, 25, said. "But we're grateful that there's a light at the end of the tunnel because there wasn't one before."
It's not only health challenges facing Gibbons, whose hospital bills are mounting. A GoFundMe campaign with a goal of raising $50,000 for his medical and recovery expenses had nearly reached its goal, but his medical and related costs easily will exceed that total.
"If anybody is willing, donate to the GoFundMe page because he's going to need it," his son said. "But more so, just the positive support … is all we could ask for."
The younger Gibbons said his father was watching Monday Night Football at a neighbor's house on Sept. 23 when the two men heard an explosion. The neighbor ran out of the house, then told Pierre Gibbons the row house across the street from his home was on fire, prompting Pierre Gibbons to run out. At that point, Jeremiah Gibbons said, the fire was "really heavy" toward a backyard full of junk that caused it to quickly spread.
Pierre Gibbons rushed into the fire to try to save his 77-year-old neighbor, his son said.
"The lady's son said that she ran back inside for the six cats that were in the basement," he said. "She lived in the basement and the son lived upstairs."
Investigators determined an unextinguished cigarette caused the fire.
"The fire investigation bureau said it was from a cigarette [in a] plastic bag that was hanging on the fence, and the fence was a chainlink fence with a picket fence that lined the entire inside," he said. "It was kind of cold and dry at that time, so it just spread like wildfire basically."
As Pierre Gibbons tried to pull the woman out of the fire, he was overcome by smoke and collapsed inside. Firefighters arrived in time to carry both of them out.
Jeremiah Gibbons said the elderly woman died about a month after the fire.
"They took her off life support in late October," he said.
The younger Gibbons said his father was awake when he was rushed to the hospital.
"They said he talked all the way to the hospital, so whatever he did inside the fire to help the lady, he like covered his face and his head," he said.
After he came out of the coma, Pierre Gibbons told his son he wasn't going to let his neighbor perish in the fire.
"When I talked to him, he said he wasn't just going to let her burn to death," he said.
Before the fire, Pierre Gibbons had been planning to fly to Santa Fe, where he grew up, to attend high school reunion activities and a celebration marking the 40th anniversary of Santa Fe High's Class 4A state football championship.
At the start of the Sept. 27 matchup between St. Michael's High School and Santa Fe High, in which the team was honored, an announcer asked the crowd to pray for the elder Gibbons.
"Pierre Gibbons, Class of 1980, was severely injured and burned as he heroically saved the life of an elderly neighbor in a tragic house fire," the announcer said. "We ask that you take a moment and turn your cellphone lights on and join the entire Demon family in wishing Pierre and his family prayers and well-wishes for a speedy and successful recovery."
Jeremiah Gibbons and his sister said they continue to be moved by the support shown by people nationwide, including Santa Fe.
"The Demons really came through for him," the son said, referring to his father's old football team. "That video [of the tribute at the game] was so moving. It brought tears to all of our eyes."
"We're in awe of the support all the way from New Mexico," Taylor Gibbons said, adding that the outpouring of support is what keeps her father going. "Just give a very big thank you from our family to the city of Santa Fe."
Annette Lujan, who lives in Santa Fe and is friends with Pierre Gibbons, said she has been leaving him messages on his phone and through Facebook since the accident.
"When he's able to call me, I know he will," she said.
Lujan, who has sold cookies to try to raise money for her friend, said she has continually prayed for his recovery.
"This really kind of renewed my faith," she said. "It's such a miracle."
His family started a Facebook page called Keep Fighting Pierre to keep the public apprised of his progress. The group has nearly 1,300 members from coast to coast.
On Dec. 5, Pierre Gibbons appeared in a video from his hospital bed and thanked people for their support while wearing a Baltimore City Fire Department baseball cap.
"This has been the hardest thing I've ever been through in my life," he said in the video. "I have to say, without the special understanding and people going out of their way for me, it would be even worse, so I want to thank you all. You know how much I love you. … Say prayers for me. I'm getting close. Amen. Love you."